JANUARY
Tomb of Sand by Geetanjali Shree, translated from the Hindi by Daisy Rockwell (HarperVia, January 31)

Eighty-year-old Ma slips into a deep depression after the death of her husband. Despite her family's cajoling, she refuses to leave her bed. Her responsible eldest son, Bade, and dutiful, Reebok-sporting daughter-in-law, Bahu, attend to Ma's every need, while her favorite grandson, the cheerful and gregarious Sid, tries to lift her spirits with his guitar. But it is only after Sid's younger brother—Serious Son, a young man pathologically incapable of laughing—brings his grandmother a sparkling golden cane covered with butterflies that things begin to change. With a new lease on life thanks to the cane's seemingly magical powers, Ma gets out of bed and embarks on a series of adventures that baffle even her unconventional feminist daughter, Beti. She ditches her cumbersome saris, develops a close friendship with a hijra, and sets off on a fateful journey that will turn the family's understanding of themselves upside down.
---
FEBRUARY
Our Share of Night by Mariana Enriquez, translated from the Spanish by Megan McDowell (Hogarth, February 7)
A young father and son set out on a road trip, devastated by the death of the wife and mother they both loved. United in grief, the pair travel to her ancestral home, where they must confront the terrifying legacy she has bequeathed: a family called the Order that commits unspeakable acts in search of immortality. For Gaspar, the son, this maniacal cult is his destiny. As the Order tries to pull him into their evil, he and his father take flight, attempting to outrun a powerful clan that will do anything to ensure its own survival. But how far will Gaspar's father go to protect his child? And can anyone escape their fate? Moving back and forth in time, from London in the swinging 1960s to the brutal years of Argentina's military dictatorship and its turbulent aftermath, Our Share of Night is a novel like no other: a family story, a ghost story, a story of the occult and the supernatural, a book about the complexities of love and longing with queer subplots and themes.
The Strangers by Jon Bilbao, translated from the Spanish by Katie Whittemore (Dalkey Archive, February 21).
A Spanish-gothic version of a Patricia Highsmith novel
Jon and Katharina spend the winter in Jon's childhood home on the Cantabrian coast, lonely and bored, ambivalent about their precarious freelance jobs and disconnected in their relationship. Yet the couple's routine will soon be disturbed when one rainy night, they witness strange lights in the sky over the village. The next morning, ufologists begin to arrive in the village, anxious to make extraterrestrial contact. The morning brings other unexpected guests: Jon's distant cousin, Markel, and his companion, the silent, alluring Virginia. The visit becomes increasingly uncomfortable as—like the ufologists camped out in view of the house—the strangers stay on and show little sign of planning to leave. Days stretch into weeks, even as the cousins can't remember ever having met, Virginia's behavior becomes subtly threatening, and Jon begins doubt that Markel is who he says he . . .  A deliciously tense and darkly humorous novella that explores the border that separates love from routine and offers a twist on theme of "the other" and how to live with the unknown, The Strangers introduces English readers to singular talent.
---
MARCH
Hospital by Han Song, translated from the Chinese by Michael Berry (AmazonCrossing, March 1)
A twisted, wildly imaginative tale of one man's mysterious illness and his journey through a dystopian hospital system. When Yang Wei travels to C City for work, he expects nothing more than a standard business trip. A break from his day-to-day routine, a good paycheck, a nice hotel―nothing too extravagant, of course. No fuss, but all the amenities. But this is where his problems begin. A complimentary bottle of mineral water from the hotel minibar results in sudden and debilitating stomach pain, followed by unconsciousness. When he wakes three days later, things don't improve; they get worse. With no explanation, the hotel forcibly sends him to a hospital for examination. There, he receives no diagnosis, no discharge date…just a diligent guide to the labyrinthine medical system he's now circulating through. Armed with nothing but his own confusion, Yang Wei travels deeper into the inner workings of the hospital and the secrets it's hiding from the patients. As he seeks escape and answers, one man's illness takes him on a quest through a corrupt system and his own troubled mind.
Assassin of Reality by Marina and Sergey Dyachenko, translated from the Russian by Julia Meitov Hersey (Harper Voyager, March 14)
The eagerly anticipated sequel to the highly acclaimed Vita Nostra takes readers to the next stage in Sasha Samokhina's journey in a richly imagined world of dark academia in which grammar is magic—and not all magic is good. In Vita Nostra, Sasha Samokhina, a third-year student at the Institute of Special Technologies, was in the middle of taking the final exam that would transform her into a part of the Great Speech. After defying her teachers' expectations, Sasha emerges from the exam as Password, a unique and powerful part of speech. Accomplished and ready to embrace her new role, she soon learns her powers threaten the old world, and despite her hard work, Sasha is set to fail. However, Farit Kozhennikov, Sasha's dark mentor, finds a way to bring her out of the oblivion and back to the Institute for his own selfish purposes. Subsequently, Sasha must correct her mistakes before she is allowed to graduate and is forced to do what few are asked and even less achieve: to succeed and reverberate—becoming a part of the Great Speech and being one of the special few who dictate reality. If she fails, she faces a fate far worse than death: the choice is hers. Years have passed around the Institute—and the numerous realities that have spread from Sasha's first failure—but it is only her fourth year of learning what role she will play in shaping the world. Her teachers despise and fear her, her classmates distrust her, and a growing love—for a young pilot with no affiliation to the school—is fraught because a relationship means leverage, and Farit won't hesitate to use it against her. Planes crash all the time. Which means Sasha needs to rewrite the world so that can't happen…or fail for good.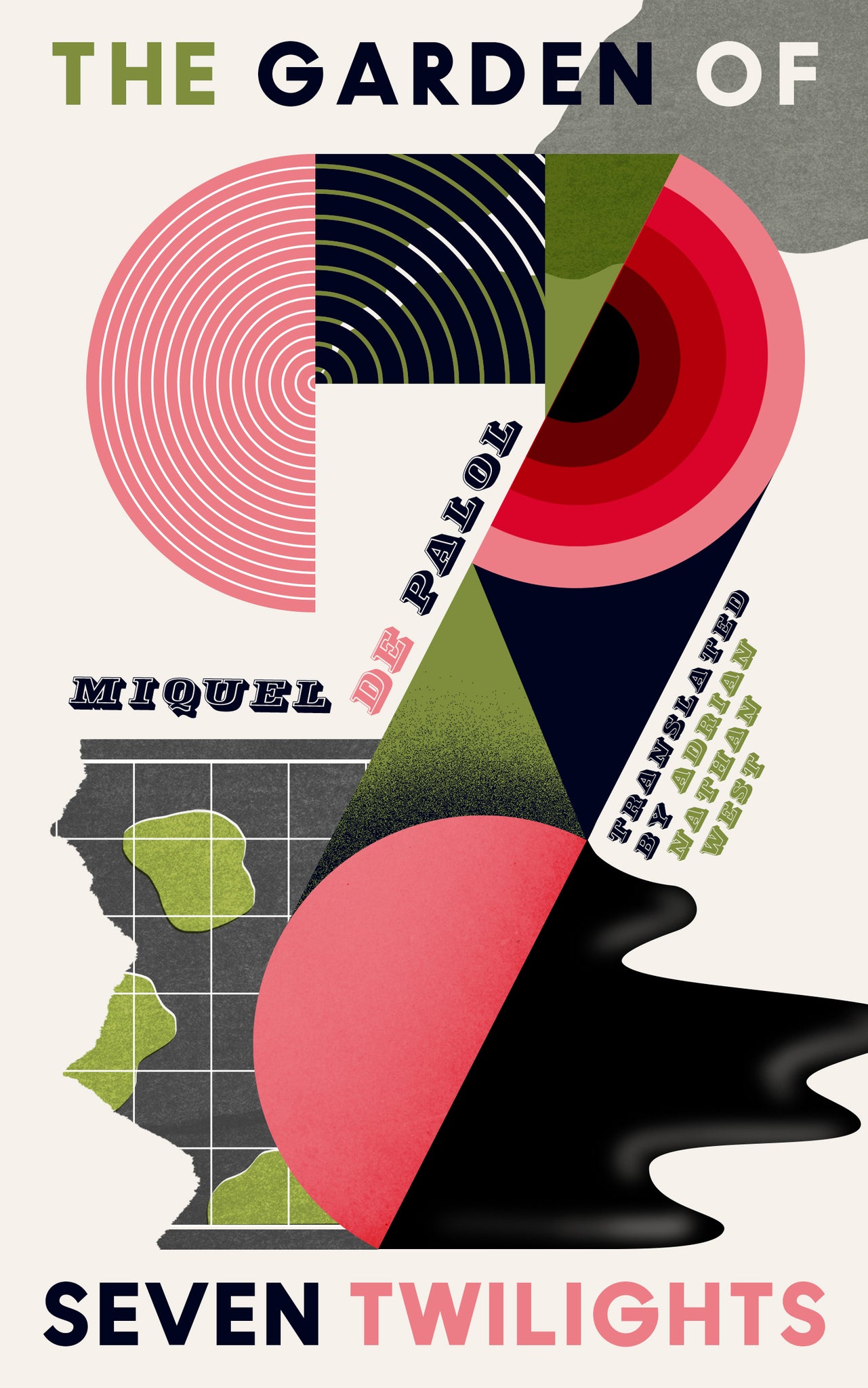 The Garden of Seven Twilights by Miquel de Palol, translated from the Catalan by Adrian Nathan West (Dalkey Archive, March 21).

During an atomic alarm in Barcelona in the year 2025, the thirty-year old hero takes refuge in a luxurious mansion in the mountains where he is put up, along with other guests, awaiting the outcome of the conflict. For the following seven days the residents of the mansion spend their spare time reading and taking walks , and, above all, telling stories to each other. The narrators (most of whom belong to the generation thirty years older than the hero's) are eight in number, and the stories they tell can be taken as autonomous ones, although, as the novel advances, it may soon be that when juxtaposed, they do indeed weave a web of intrigue about a family of bankers—a web that gradually involves some of the guests in the mansion.
---
APRIL
No Edges: Swahili Stories by various authors and translators (Two Lines Press, April 11).
Swahili is the future. The first collection of Swahili fiction in English translation, No Edges introduces eight East African writers from Tanzania and Kenya as they share tales of sorcerers, Nairobi junkyards, cross-country bus rides, and spaceships that blast prisoners into eternity. Here we're encouraged to explore the chaos of life on a crowded Earth, as well as the otherworldly realms lying just beyond our reach. Through language bursting with rhythm and vivid African futurist visions, these writers summon the boundless future into being.
Hit Parade of Tears by Izumi Suzuki, translated from the Japanese by Sam Bett, David Boyd, Daniel Joseph and Helen O'Horan (Verso Books, April 11).

---
MAY
The Roamers by Francesco Verso, translated from the Italian by ? (Flame Tree Press, May 9).
The pulldogs, a group of people at the twilight of Western civilisation, undergo an anthropological transformation caused by the dissemination of nanites (nanorobots capable of assembling molecules to create matter). This technology changes the way they eat and gives rise to a culture which, while reminiscent of an ancient nomadic society, is creative and new. Liberation from the imperative of food, combined with the ability to 3D print objects and use cloud computing, makes it possible for the pulldogs to make a choice that seems impossible and anachronistic – a new life, but is it really an Arcadia?
---
JUNE
Kappa by Ryunosuke Akutagawa, translated from the Japanese by Lisa Hofmann-Kuroda Allison Markin Powell (New Directions, June 6)
The Kappa is a creature from Japanese folklore known for dragging unwary toddlers to their deaths in rivers: a scaly, child-sized creature, looking something like a frog, but with a sharp, pointed beak and an oval-shaped saucer on top of its head, which hardens with age.
Akutagawa's Kappa is narrated by Patient No. 23, a madman in a lunatic asylum: he recounts how, while out hiking in Kamikochi, he spots a Kappa. He decides to chase it and, like Alice pursuing the White Rabbit, he tumbles down a hole, out of the human world and into the realm of the Kappas. There he is well looked after, in fact almost made a pet of: as a human, he is a novelty. He makes friends and spends his time learning about their world, exploring the seemingly ridiculous ways of the Kappa, but noting many—not always flattering—parallels to Japanese mores regarding morality, legal justice, economics, and sex. Alas, when the patient eventually returns to the human world, he becomes disgusted by humanity and, like Gulliver missing the Houyhnhnms, he begins to pine for his old friends the Kappas, rather as if he has been forced to take leave of Toad of Toad Hall…
The White City Tale by Jeong-Hwa Choi, translated from the Korean by Janet Hong (Restless Books, June 6)

Award-winning South Korean author Choi Jeong-Hwa's English-language debut, The White City Tale is a powerful exploration of existence, social hierarchies, and resilience as one man fights against a system of inequalities in a quarantined city as a pandemic of bodily and mental erasure rages.
Nineteen Claws and a Black Bird by Agustina Bazterrica, translated from the Spanish by Sarah Moses (Scribner, June 20)

From celebrated author Agustina Bazterrica, this collection of nineteen brutal, darkly funny short stories takes into our deepest fears and through our most disturbing fantasies. Through stories about violence, alienation, and dystopia, Bazterrica's vision of the human experience emerges in complex, unexpected ways—often unsettling, sometimes thrilling, and always profound. In "Roberto," a girl claims to have a rabbit between her legs. A woman's neighbor jumps to his death in "A Light, Swift, and Monstrous Sound," and in "Candy Pink," a woman fails to contend with a difficult breakup in five easy steps.
---
JULY
Counterweight by Djuna, translated from the Korean by Anton Hur (Pantheon, July 11)
For fans of the worlds of Philip K. Dick, Squid Game, and Severance: An absorbing tale of corporate intrigue, political unrest, unsolved mysteries, and the havoc wreaked by one company's monomaniacal endeavor to build the world's first space elevator—from one of South Korea's most revered science fiction writers, whose identity remains unknown.
The Village at the Edge of Noon by Darya Bobyleva, translated from the Russian by Ilona Chavasse (Angry Robot, July 25)
Everything you were afraid to find out about the heat of noon and grandma's old tales comes together in this English language debut of an award-winning and bestselling young Russian writer. The residents of a village outside Moscow wake up to discover that the road out to the motorway has disappeared without a trace and the usual paths into the woods somehow lead back into the village. And the woods? Overnight their weedy and rubbish-strewn copse has become a dark and overgrown forest inhabited by something mysterious and unfriendly. Anyone who makes it into the trees either vanishes into thin air or returns, not quite themselves… And, of course, the Internet, radio and TV have stopped working and the weather never changes. And time seems to loop seamlessly from one crop of apples and cabbages into the next.There are strange noises, and strange visitations. The villagers are plagued by odd thoughts and desires, and quiet but pervasive voices call from the river. Objects mutate; phones and radios emit strange mutterings; people disappear. What begins as a one-sided manifestation of the weird, becomes weirder still as the villagers split into factions and odd alliances with the new "neighbours" are formed. Meanwhile the forest looms closer every day. Is Katya, a solitary young woman, the only one beginning to glimpse what is going on?
The Forest Brims Over by Maru Ayase, translated from the Japanese by Haydn Trowell (Counterpoint, July 25)
A woman turns herself into a forest after long being co-opted to serve as the subject of her husband's novels—this surrealist fable challenges traditional gender attitudes and exploitation in the literary world
Nowatari Rui has long been the subject of her husband's novels, depicted as a pure woman who takes great pleasure in sex. With her privacy and identity continually stripped away, she has come to be seen by society first and foremost as the inspiration for her husband's art. When a decade's worth of frustrations reaches its boiling point, Rui consumes a bowl of seeds, and buds and roots begin to sprout all over her body. Instead of taking her to a hospital, her husband keeps her in an aquaterrarium, set to compose a new novel based on this unsettling experience. But Rui grows at a rapid pace and soon breaks away from her husband by turning into a forest—and in time, she takes over the entire city.
---
AUGUST
The Kindness by John Ajvide Lindqvist, translated by ? (riverrun, August 3).
A shipping container is mysteriously dumped in the Swedish port town of Norrtalje. Due to their ignorance of its ownership it isn't until a week has passed that the authorities can have it forced open. There the remains of twenty eight refugees are found, a situation of unrelenting horror. Not only that; a black sludge pours out which contaminates the river and is the cause of a new, sickening dread that affects Norrtalje's inhabitants, causing a lack of trust, aggression, violence. It seems like an end to Kindness. Six characters are at the centre of this extraordinary novel, six people in search of love and connection, whose extraordinary qualities will confront the metaphysical illness consuming their town.
Cyberpunk 2077 by Rafal Kosik, translated from the Polish by Stefan Kielbasiewicz (Orbit, August 8).
Written by acclaimed Polish science fiction writer and screenwriter Rafał Kosik, the electrifying novel follows a group of strangers as they discover that the dangers of Night City are all too real.
Fishing for the Little Pike by Juhani Karila, translated from the Finnish by Lola Rogers (Restless Books, August 15).
Winner of the Jarkko Laine Literature Prize
In the utterly original, genre-defying, English-language debut of Finnish author Juhani Karila, a young woman's annual pilgrimage to her home in Lapland to catch an elusive pike in three days is complicated by a host of mythical creatures, a murder detective hot on her trail, and a deadly curse hanging over her head.
---
SEPTEMBER
The Court of Shadows by Victor Dixen, translated from the French by Françoise Bui (Amazon Crossing, September 19).
A fiery heroine seeks vengeance against a royal court of deadly vampires in this epic alternate history set in lavish Versailles.
---
OCTOBER
Godzilla and Godzilla Raids Again
by Shigeru Kayama, translated from the Japanese by Jeffrey Angles (University of Minnesota Press, October 3).
The first English translations of the original novellas about the iconic kaijū Godzilla.
On the Isle of Antioch by Amin Maalouf, translated from the French by Natasha Lehrer (World Editions, October 3).
Alec, a press artist with an impressive track record, settles on a remote island in the Atlantic Ocean. He has little contact with his neighbor, a solitary woman who wrote a cult book years ago, before withdrawing from public life. That is, until a gigantic power failure cuts them off from the rest of the world, and all of a sudden they find themselves dependent on each other. The world appears to be on the brink of nuclear war and the collapse of civilization seems imminent. Just who are the mysterious friends of Empedocles, the gang of otherworldly protectors who came swooping in to interfere with the US presidency and cure all illness? Should we trust them? On the Isle of Antioch is a suspenseful novel with mythological roots, written in the dreamy language of the classics, by internationally renowned scholar Amin Maalouf.
The Owl Cries by Hye-young Pyun, translated from the Korean by Sora Kim-Russell (Skyhorse Publishing, October 3).
A disappearance. A missing brother. A lawyer asking questions. And a vast forest in the mountains—the western woods—where the trees huddle close together emanating a crushing darkness and a chill dampness fills the air. The ranger, In-su Park, who lives nearby with his family, is a recovering alcoholic. He claims no knowledge of the man who disappeared, even though the missing man had worked as the ranger just before him. In the little village down the mountain, the shopkeepers will do the same and deny they ever saw or knew the man, though they're less convincing; and his former supervisor at the Forestry Research Center, Professor Jin, dismisses his importance. But when an accident and a death derail the investigation and someone attempts to break into his office, In-su Park finds himself conducting his own inquiry into the goings-on deep in the heart of the western woods—spurred by the mysterious words he discovers on a piece of paper beneath his desk: "In the forest the owl cries."
Nordic Visions, ed. Margrét Helgadóttir, various translators (Rebellion Publishing, October 10).
Storytelling has been a major force in the Nordic countries for thousands of years, renowned for its particular sense of dark humour, featuring pacts with nature and a view of the worlds you seldom find in other places. Featuring 16 stories across fantasy, science fiction and horror from the best contemporary speculative authors from Finland, Sweden, Denmark, Norway, Iceland, and The Faroe Islands, many in English for the very first time, Nordic Visions edited by Margrét Helgadóttir is out this October and today we're introducing you to its contributors!
---
NOVEMBER
---
DECEMBER
---